EU Commissioner Phil Hogan Visits the Burren Learning Area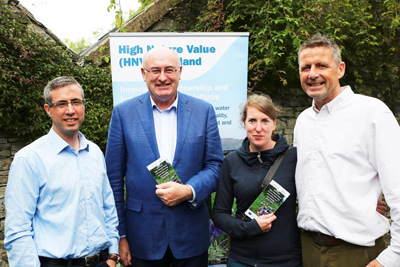 EU Commissioner Phil Hogan Visits the Burren Learning Area
The project collaborators in Ireland (IT Sligo - LA Coordinator) and Burrenbeo - LA partner were delighted to welcome EU Commissioner for Agriculture Phil Hogan to the Burren Learning Area on the 29th of August. During the day the Commissioner was briefed on the evolution of the locally led and results based agri-environment programme - a truly innovative approach to the public payments. A number of local farms were visited to see the programme in action and to hear from farmers on their involvement in nature management.
Results of the Burren Programme are more than meets the eye. In addition to tangible outcomes, the success of the programme is built on the input of many people and various organisations. Networking, commitment and mutual respect of all those involved have been the keys to the Burren Programmes success. The Burren is a living landscape, home and workplace to thousands of people and so are all the other Learning Areas of the HNV-Link. During the day long visit, the potential of networks of innovative communities working in partnership was emphasised in realising locally adapted and results orientated solutions.
The options for scaling the Burren programme were discussed. "We are always proud to present innovative ways developed in Burren to those who are striving to preserve biologically and culturally rich farmland in their areas. The HNV-Link with its 13 partner network is a wonderful opportunity for us. Working together with other HNV farming areas enables us to share what we have learned and to learn from others." says IT Sligo coordinator Dr James Moran.   
Further images of the day are available on the Commissioner's Facebook page
Back to news overview