Dalsland, Sweden
Lowland lakes
Dalsland´s calcareous flatrocks
Veteran trees
Species rich, lime poor, seminatural pastures
Diversity of environments and farms
Need for effective dialogue, learning and collaboration between stakeholders
Land use trends
Need of large scale restoration of semi-natural pastures
Slaughter, animal welfare and traceability
Strengthening profitability
Method to facilitate dialogue and collaboration between stakeholders
Dialog tool about future land use
Service package for HNV pasture restoration projects
Hälsingestintan - a mobile abattoir
A common vision
A local brand
Most of the area's major lowland lakes are found in the eastern and southern parts of the landscape. In those areas where grazing is maintained, it creates environments where aquatic insects, frogs and reptiles and wild birds are able to flourish.
Dalsland´s calcareous flatrocks are unique for Sweden due to the combination of basic volcanic and sedimentary rocks. With addition of a relatively high precipitation, this creates ideal conditions for many calcicolous vascular plants, lichens and moss. Saxifraga osloensis is endemic to Sweden and Norway, and with its main natural range in Sweden.
The area hosts the last remains of widespread landscapes of grasslands, often former meadows, with trees. Today some of them have large veteran trees, many of them are oaks. Recently grazing was re-introduced in this specific area after a 60-years break in such traditional land use.
In places without much limestone, a long history and continuity of mowing or grazing have created plant communities with Arnica montana, Hypochaeris maculata, Succisa pratensis and Scorzonera humilis as typical species.
The region is famed for its diversity of topography, nature and farming systems. Fragmented farmland is embedded into the landscape of forests, rocky hills and lakes. This mosaics supports rich nature of all the habitat types.
The participating stakeholders need to start working collaboratively with HNV-issues, to jointly develop and implement efficient and goal-oriented working methods, and to create pre-conditions for a long-term work.
Much of HNV farmland has disappeared during the last 150 years. A large share of the meadows (red) and semi-natural grasslands (green) have been transformed into arable fields (yellow) or productive forests (black). What is shown as non-grazed forests today are overgrown meadows and pastures of the past. It is there where the highest HNV potential exists.
While the main challenge is to preserve the still existing biodiverse farmlands, restoration of the large areas of overgrown and abandoned HNV farmland before it loses the qualities is just as important.
The society and consumers want to know more about "the animal behind the meat": where the animal lived its life, what kind of food it had, which landscapes it affected, how it was slaughtered.
There is a need of making consumers understand, appreciate HNV farmland values so that they are prepared to pay for them. There is also a need for the farmers to be able to deliver products with a clear and assured HNV farmland effect. This shared responsibility would strengthen the profitability of farming in the region.
Facilitation of collaborative land use management (FOCLUM) is a method to design and facilitate a collaborative process, from first contacts between stakeholders to implementation of concrete HNV farming measures.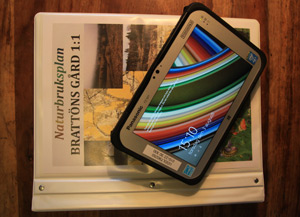 Facilitation of collaborative land use management, Land use plan (FOCLUM-LUP) is a tool to help conclude and visualise the discussions held between actors. The aim is to enable them to reach common ground, set up joint goals, prioritise among measures and coordinate implementation of the measures to achieve a more sustainable land use.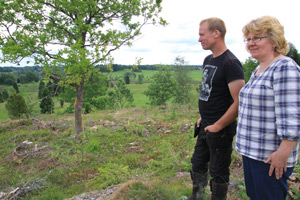 Facilitation of collaborative land use management, Techniques and entrepreneurship for HNV pasture restoration projects (FOCLUM-PRP) facilitates the implementation phase of the FOCLUM-process. Entrepreneurial firms offer services for restoration of HNV farmlands, either for specific parts of such projects or as a prime contractor.
Hälsingestintan offers on-farm slaughtering with their mobile abattoir for fully grown cattle. The process of starting up the initiative was motivated by a wish to provide consumers with "ethical" meat, were the animals have suffered minimal stress during slaughter.
A vision of how a foreseeable future looks like in Dalsland, which has been developed and continuously supported by all actors, is probably a very important success factor. Visioning work in Dalsland has begun within the framework of the HNV-Link project, but needs to continue. An inspiring example is The Dartmoor Moorland Vision.
A local brand where a share of the price paid by consumers builds up a fund which financially support restoration of semi natural pastures in the local area. One inspiring example is Terra Thessalia in Greece.
Dalsland is located in southwest Sweden, along the western shore of Lake Vänern and partly bordering Norway. It is sparsely populated, with small towns scattered in the landscape. The area has varied and complex geology, topography, nature and farming systems, and for this reason, it is sometimes labelled "Sweden in miniature". Dalsland has several Natura 2000 habitat types and cultural heritage elements. Farming systems are based on use of permanent pastures and meadows for beef and dairy production. For more information on the area, see the Baseline Assessment
Innovations in Dalsland:
Some useful links:
Innovations of relevance for Dalsland from other project areas:
Other Downloads/Links:
More info: www.lansstyrelsen.se / Contact person:
(September 2018)